Installing RocketCyber Agent for macOS
Overview
As more organizations begin to adopt macOS devices, it creates a blindspot due to the lack of security monitor technogies for these platforms. RocketCyber introduceds the RocketCyber agent for macOS.
Requirements
RocketCyber agent for macOS supports macOS 10.14 and 10.15.
Agent must be installed with sudo privileges, which the default install script provides.
Installation
1. Navigate to the deployment view from within one of the customer accounts.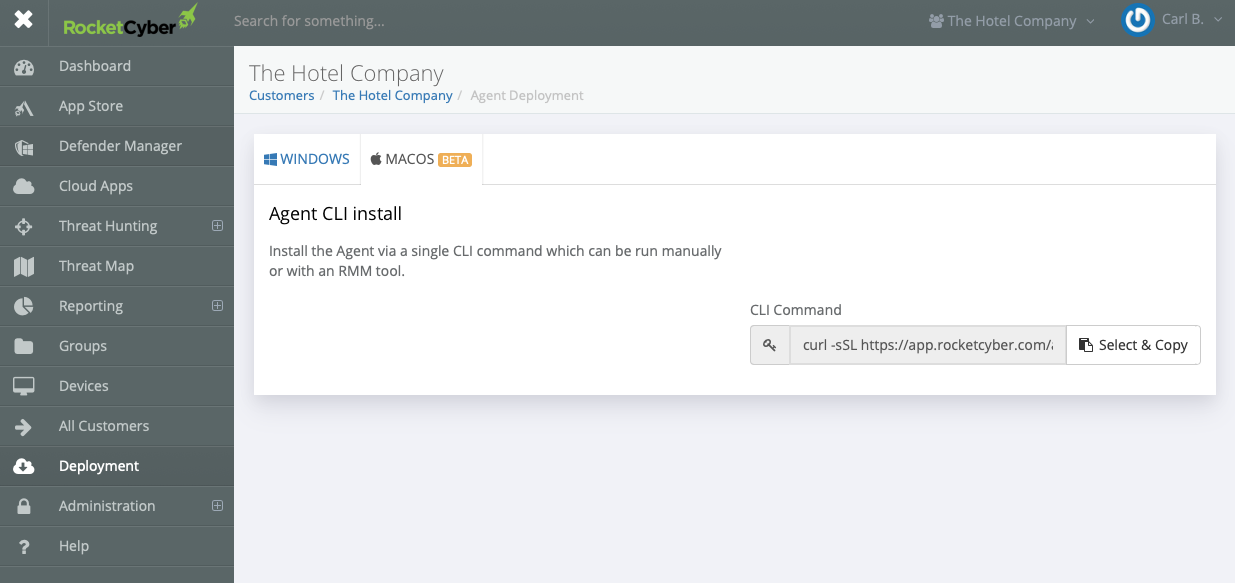 2. Click on the macOS tab
3. Click the Select & Copy button to copy the deployment script to the clipboard.
4. From a terminal window on macOS paste the copied deployment script and press enter
The deployment script will download and install the required components to desired macOS device. It will prompt for administrator credentials as required for certain commands.
Once the agent deployment script has completed, return to the RocketCyber dashboard to view the device in the device list.

Deplyment via RMM and other tools
Any RMM tool that can run a bash shell script as root should be able to use the same CLI command. Instead of copying the command to the terminal prompt, paste the CLI command into your RMM tools script editor and choose to have the script run as system or root.
---
---